MagGrow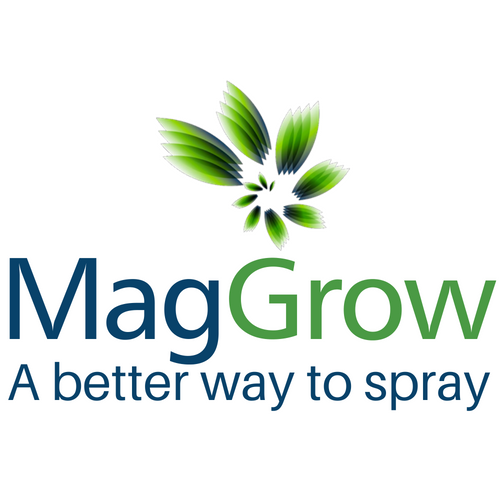 MagGrow is a patented, proprietary technology for droplet formation that yields superior spray drift reduction and spray coverage performance. The company aims to be a leader in providing innovative technology solutions to farmers. Working with farmers throughout the globe, from the big crop growers to the small farm holder, this technology is available to all to help feed a growing global population and meet dual goals of profitability and sustainability.
The Product
One of the biggest problems facing all farmers worldwide is pesticide drift. The world needs crop protection, as without it, it is estimated we would have only 20-30% of the food we currently grow. The net effect of drift is contamination, farmers suing farmers, governments suing farmers, new buffer zones, new regulations and so on. And of course, drift means poorer crop coverage due to increased waste.
Farmers use larger droplets to reduce spray drift, however, these larger droplets mean that the solution runs off the plant and into the soil, rivers and streams, causing contamination. All farmers want to use smaller droplets to increase coverage, but this isn't possible with conventional technology. This is where MagGrow comes in.
MagGrow solves the problem by reducing drift by up to 70% and improving coverage by at least 20-40%, depending upon the crop and spraying conditions. It delivers significant savings in pesticide usage, uses less scarce resources such as water and labour, extends spray windows and meets environmental and legislative requirements. Critically, MagGrow reduces the risk of pesticide drift into neighbouring fields and the environment in general.
Main challenge of being an entrepreneur:
Challenges vary depending upon the stage that you are at in the business. This could be the early stage where you have to multi-task due to limited resources and fund the product launch to the scaling stage where you need to build a team to meet customer demand and also meet their expectations. The timing of this is critical as it places huge demand on resources and on cashflow. You need to get the best team possible around you, empower them and have top class communication and review processes.
On working with Farm491:
Nick, Head of Crop Science, found Farm491 through the Royal Agricultural University website whilst looking to see what facilities they had available. Whilst researching the various membership options he noticed the new workshop facility at Harnhill which proved to be the ideal location for MagGrow's new Crop Science Centre in the UK.